The Art of Gathering
GATHERINGS INSPIRE, NOURISH, AND MOTIVATE US.
Eaton DC offers 12,000 square feet of inspiring flexible event space for your meetings, conferences, parties, and private get-togethers.
Flexible Space
Over 12,000 square feet of flexible meeting and event space

Bespoke Food & Drink
Let Michelin-starred chef, Matt Baker, design just the right menu for you

LEED Gold Certified
Sustainable in design and in practice

Natural Light
All second floor spaces feature floor-to-ceiling windows and airy 13' ceilings

State-of-the-Art AV
Advanced AV features, from hybrid business meetings to live music

Eaton Cinema
56-seat cinema and screening room with DCI projector
Modern Aesthetic
Concrete floors and exposed brick come together to create a contemporary feel

City Views
Take in dynamic views of DC from our second floor meeting spaces and rooftop venue

Event Spaces
Whether you need a memorable venue for your wedding, a boardroom for a company training, or a space to organize your community, Eaton DC can help you create the perfect gathering. Capacities for all event spaces are listed without any audio visual equipment, food and beverage stations, or outside vendor décor. 
Beverly Snow
Capacity: 100 - 400
Square feet: 4,302
Beverly Snow
Meeting Facilities
Room is divisible by two sections and has four pull down screens with projectors.
Painted concrete flooring and exposed ceiling gives the room a look and feel unlike any other.
The room has great natural lights with floor to ceiling windown looking over K Street.
This room named in honor of formerly enslaved Beverly Randolph Snow, who owned and operated one of the most successful restaurants in downtown Washington DC in the 1830's. Beverly's success became the target of the famed "Snow Riots" in 1835 as White mechanics sought to harm freed Blacks and abolitionists in the Nations Capital.
Salon
Capacity: 28 - 100
Square feet: 761
Salon
Meeting Facilities
Floor to ceiling windows
13.5' ceiling height
Great for intimate or large gatherings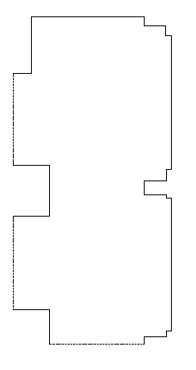 Named in honor of the art, culture and political salons that would take place near U Street.
Sidney
Capacity: 20 - 20
Square feet: 493
Sidney
Meeting Facilities
Unique boardroom space with floor to ceiling windows and an existing custom table
85" TV monitor with connection via USB Clickshare device
Ideal space for board meetings and private dinner functions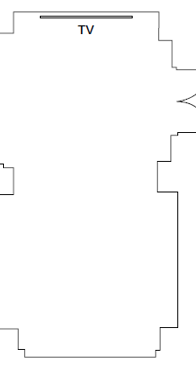 In honor of William Sidney Pittman, one of the first African American architects and the designer of the Twelfth Street YMCA, the first ever for African Americans. The 12th Street YMCA was a place of planning for human rights and activist strategies.
Crystal
Capacity: 34 - 170
Square feet: 2,407
Crystal
Meeting Facilities
Room is divisible in 3 sections
Pull-down screen and projector, plus 3 85" TV monitors
Ideal for larger meetings, meal space, and receptions
Adjacent pre-function space can accommodate F&B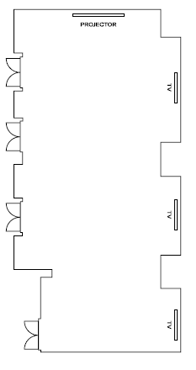 Named after Crystal Caverns, a U Street staple during the heyday of Black Broadway in DC
Barnett-Aden
Capacity: 18 - 80
Square feet: 811
Barnett-Aden
Meeting Facilities
Partial natural light 
Room is divisible by two sections
Ideal for smaller meetings, up to 60 people
Built-in screens/projector along with 2 75" TV monitors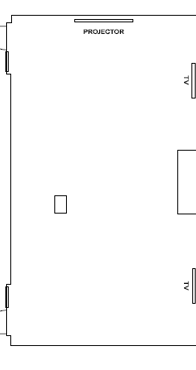 Named after the first privately owned black art gallery in the US, founded in 1943 on Randolph Street NW.
Wild Days
Capacity: 200 - 200
Square feet: 5,000
Wild Days
Meeting Facilities
An indoor/outdoor space that can accompany up to 200 people
Ideal for day time functions, including breakfast and lunch events
State of the art built-in audio equipment for live performances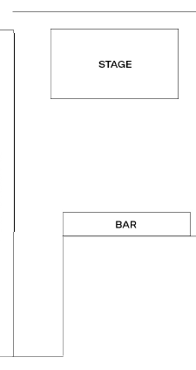 Wild Days offers breathtaking city views of recently renovated Franklin Square Park.
Cinema
Capacity: 56 - 56
Square feet: 800
Cinema
Meeting Facilities
56 theater-style seats
4K Sony DCI-compliant digital projector
Ideal for screenings, panels, and discussions

We're huge cinephiles at Eaton, and our 56-seat screening theater offers a 4K Sony DCI compliant digital projector for fellow enthusiasts. The Eaton Cinema is available not just for official screenings of first run films, but also for TED-style panel discussions, and for any production crews that need to edit dailies. The space offers traditional theater-style seating as well as options for food and beverage services for your event.
Eaton House
Capacity: 100 - 100
Square feet: 2,500
Eaton House
Meeting Facilities
Guests have access to House offerings, as well as to Eaton Workshop's cultural programming and wellness experiences
Available for coworking in addition to private events
For private events, Eaton House accommodates up to 100 people reception-style with existing furniture and set-up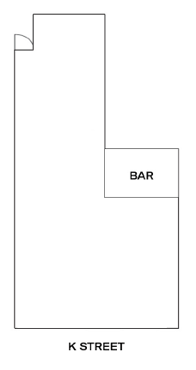 Provides private, shared, and communal workspaces for brainstorming and collaborating.
Get the Eaton DC Meetings & Events Brochure
Everything you need to know in one place
Venue
Dimensions
Layout Capacity
| | | | | | | | | | | |
| --- | --- | --- | --- | --- | --- | --- | --- | --- | --- | --- |
| | Ceiling Height | Area (sq ft) | Banquet | Theatre | Conference | Reception | Classroom | U-Shape | Hollow Square | Dinner & Dance |
| Beverly Snow | 12'5" | 4,302 | 240 | 300 | - | 400 | 100 | - | - | 200 |
| Salon | 13'5" | 761 | 60 | 80 | 30 | 100 | 38 | 30 | 28 | - |
| Sidney | 13'5" | 493 | - | - | 20 | - | - | - | - | - |
| Crystal | 10' | 2,407 | 150 | 170 | 42 | 150 | 50 | 34 | 38 | N/A |
| Barnett-Aden | 13'5" | 811 | 60 | 80 | 22 | 50 | 18 | - | 18 | - |
| Wild Days | 13'9" | 5,000 | - | - | - | 200 | - | - | - | - |
| Cinema | 12 | 800 | - | 56 | - | - | - | - | - | - |
| Eaton House | 13'9" | 2,500 | - | - | - | 100 | - | - | - | - |
Business Meetings
With 12,000 square feet of meeting and event spaces, Eaton DC has flexible options to accommodate your gathering needs whether it's a presentation, training, happy hour, or panel discussion.
Retreats
For the times you need a change of scenery to get inspired, Eaton DC offers a full suite of services, from lodging to wellness activities to catering. Let us help you make the most of your retreat.
Weddings
One of life's most important days deserves a truly special venue. Our event spaces combine industrial touches and refined amenities to create a truly unique contemporary atmosphere for your wedding. 
Production & Film
With its unique combination of refined woodwork and industrial touches, Eaton DC's new-meets-old aesthetic is like no other in the region. Eaton DC's variety of spaces, small and large, it can accommodate all types of production, from interviews to documentaries to feature films to photoshoots.
March on Washington Film Festival
"The partnership between Eaton Workshop and MOWFF is built on a shared mission of living the principles of racial equality and social justice, on mutual trust and respect, and a genuine appreciation and spirit of cooperation between our respective team members."
Color of Change
"Color of Change is an organization with a high commitment to centering black joy in our work. It is important that we create spaces where people can celebrate the successes of their work. This recently led us to seek a venue to partner with as we sought to create a new signature event for our organization, Champions of Change. The Eaton was the perfect venue to partner with, their aesthetic perfectly matched with our brand."
Smithsonian Asian Pacific American Center
"Eaton DC is the perfect space for creating the atmosphere we wanted and needed for our Festival— one of welcome, care, and commitment to shared liberation. We held the majority of our Festival programs in the space, from packed performances to intimate workshops to immersive installations, and hosted all of our performed in Eaton stay rooms."
Join Our Community
For the latest on all the cultural happenings and special experiences at Eaton Workshop, join our mailing list.
Join Our Community
For the latest on all the cultural happenings and special experiences at Eaton Workshop, join our mailing list.