Rest Day: The 3rd Annual Yoga Kickback Retreat @ Eaton Wellness
An immersive wellness retreat for BIPOC to slow down and experience deep rest and relaxation in body, mind, and spirit
Do you constantly feel overwhelmed, fatigued, or burned out from the life that you worked so hard to create? Press pause on the demands of your daily grind and give yourself permission to rest.
Join the calm/cool collective as we restore ourselves and each other at the Yoga Kickback, our annual wellness retreat that invites BIPOC* to connect, chill, and celebrate community in the name of collective healing and well-being.
Supported by wellness practitioners of color, this year's theme of Rest Day creates space for you to explore the seven types of rest (physical, mental, emotional, spiritual, sensory, social, and creative) through a variety of practices that invite deep relaxation, reconnection, and ease.
Nurtured by the calming vibe of Eaton Wellness, your Rest Day will leave you feeling replenished with renewed clarity on how to integrate more rest into your daily life. No yoga or meditation experience is required, all levels are welcome.
*Black, Indigenous, and people of color
The Lineup:
10:00- 10:30 am | Welcome + Opening Circle
10:30- 11:30 am | Physical + Mental Rest
Yin Yoga + Yoga Nidra for Deep Relaxation with Shakeelah Sutton, founder of the calm/cool collective
11:40- 12:25 pm | Social Rest
Reflect and Realign: A Heart + Mind Workshop with Taylor Allie, licensed Psychotherapist and co-founder of Come OHM
12:30- 1:00 pm | Lunch
1:00- 1:45 pm | Creative Rest
Herbal Tea Blending + Salt Bath Workshop with District Herbs
2:00- 3:15 pm | Emotional + Sensory Rest
Restorative Yoga + Sound Bath with Shakeelah Sutton and Jess Gray
3:15- 3:30 pm | Closing Circle
Tickets also include refreshments, a plant-based lunch, gift bags with goodies for sustaining rest practices at home, and a chance to win prizes from our sponsors, including:
Lululemon yoga mat + props
Vegan leather journal from Fully Bloomed
Private yoga session with the calm/cool collective and more!
FAQs:
1. What should I bring? Please bring a journal and writing utensil. Yoga mats are not required.
2. What if I can't attend the entire retreat? While we strongly believe you'll receive the most benefit by attending the entire retreat, we understand if you have to arrive late or leave early. We ask that you're mindful of the start and end times of the sessions.
3. Do you give refunds? All ticket purchases are final sale.
Please note: In alignment with our mission of providing historically underrepresented communities with access to holistic wellness, this event creates space for those who identify as BIPOC (Black, Indigenous, and people of color). While we will never deny anyone access to our event, if you do not identify as BIPOC, we kindly ask that you save space for those who are.
Registration implies acknowledgement and acceptance of the calm/cool collective Liability Waiver for you and your guests.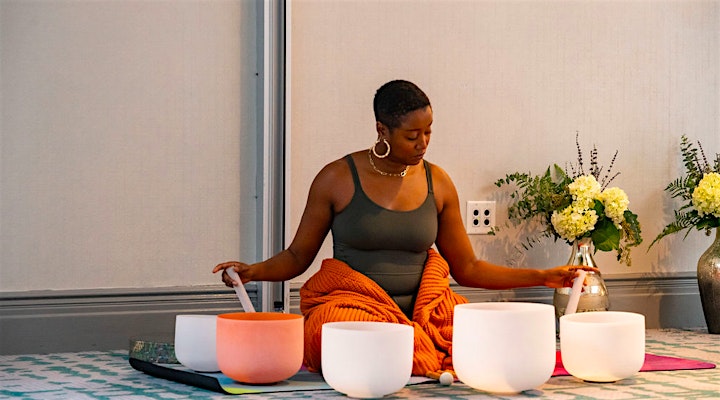 About the calm/cool collective:
The calm/cool collective is a wellness community that offers healing through holistic wellness practices, mindfulness tools, and resources for BIPOC facing stress and trauma from their lived experiences, so that we can strengthen self-awareness, resiliency, and the ability to feel at ease in any given moment. Learn more at www.calmcool.co or follow us on Instagram @calmcoolco.